Out of all the conversations I have surrounding Virtual SAN with Customers, Partners and VMware folks, there is one topic that always surfaces and that topic is with regards to what drivers and firmware to use, is it the minimum version on the compatibility guide or what?? As we know Virtual SAN has a specific HCL when it comes down to three components
Disk Controller (VSAN RAID0 and Passthrough)
Solid State Drives
Magnetic Disks
So where does the confusion come from?
Historically, the compatibility guide for ESXi has always been supported as what was certified by the vendor, and anything newer than that is perfectly acceptable, but in the case of Virtual SAN this all changed, especially for the disk controller, and this is due to the whole interaction between Virtual SAN and the controller that the slightest change in firmware could result in a behavioural change on the controller which could have negative consequences on the Virtual SAN environment.? With Virtual SAN the hardware vendors will certify specific combinations of drivers and firmware, for example here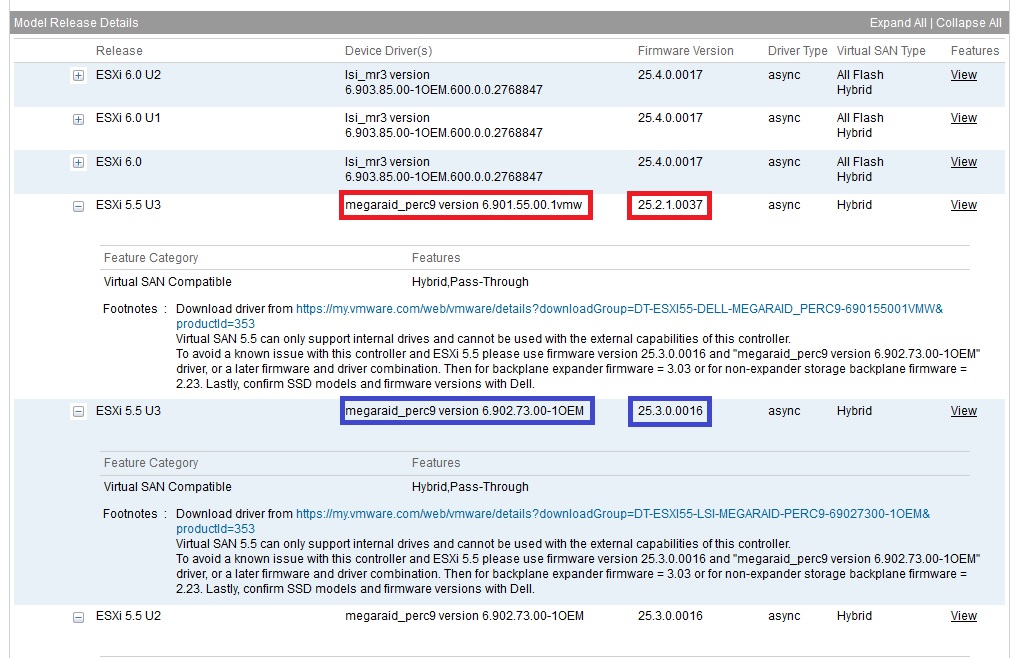 You will see that the controller listed here for ESXi 5.5U3 (Virtual SAN 5.5) has two different drivers and associated firmware versions, this is the explicit combination that is required, so for example it would not be supported to use the driver version highlighted in red megaraid_perc9 version 6.901.55.00.1vmw with the firmware version highlighted in blue 25.3.0.0016 and vice versa, this is the exact firmware combination that must be used.? So if you update the firmware of the controller, you need to also ensure you apply the correct driver version also.
So what about newer versions you might ask?? Sometimes vendors will release newer Drivers and Firmware to provide fixes to known issues or enhancements to the controller, until that newer driver/firmware has been certified for Virtual SAN you should not upgrade to them, the chances are that it is in the process of being certified but until you see it on the Virtual SAN Compatibility Guide do not upgrade.? Stay Safe…..Stay Supported!
With regards to the Solid State Drives and Magentic disks, on the Virtual SAN Compatibility Guide you will see a firmware version published (Not in all cases for Magnetic disks), like the traditional ESXi Compatibility Guide, this is the minimum firmware supported, so as vendors produce newer firmware for them, you can update them as you wish, just remember to be on or above the mimumum published on the Virtual SAN Compatibility Guide
So just remember that:
Disk Controller – The exact driver / firmware combination on the Virtual SAN Compatibility Guide
Solid State Disks and Magnetic Disks – The firmware published on the Virtual SAN Compatibility Guide is the minimum version supported